Every Student Succeeds!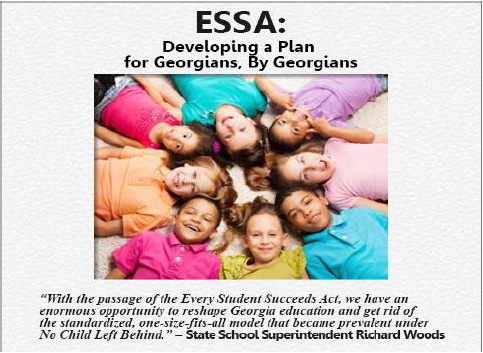 In December 2015, the Every Student Succeeds Act (ESSA), the replacement for the Elementary and Secondary Education Act (commonly known as No Child Left Behind) was signed into law. The new law allows states and local schools/districts to make education decisions that are best for their students, and requires states to develop plans that address standards/assessments, school and district accountability, and special help for struggling schools and students.
The 2016–17 school year will be a transition period. Full implementation of Georgia's ESSA Plan will be effective in the 2017–18 school year. The Georgia Department of Education is interested in input from parents and community members as they rewrite the plan. We encourage you to review the Georgia DOE transition plan and timeline.
To review the ESSA press release:
http://www.gadoe.org/External-Affairs-and-Policy/communications/Pages/PressReleaseDetails.aspx?PressView=default&pid=452
To review Georgia's presentation and timeline:
http://www.gadoe.org/External-Affairs-and-Policy/communications/Documents/19th Working Committee - Final.pptx
To access recordings of the fall ESSA Public Hearings:

http://www.gadoe.org/External-Affairs-and-Policy/communications/Pages/ESSA.aspx
To provide feedback or make comments, send email to: